Bridging the gap between diversity and inclusion
We help organisations create value from diversity using evidence-based conversation technology
Leverage the power of diversity
It is well-established that diverse teams perform better, have a stronger team identity and stay at an organization longer – but only if and when this diversity can be leveraged through inclusive company practice, processes, and culture.
Our evidence-based method facilitates healthy debate at scale to promote mutual understanding on key topics, while the data provides leadership with actionable insights on sentiment and attitude.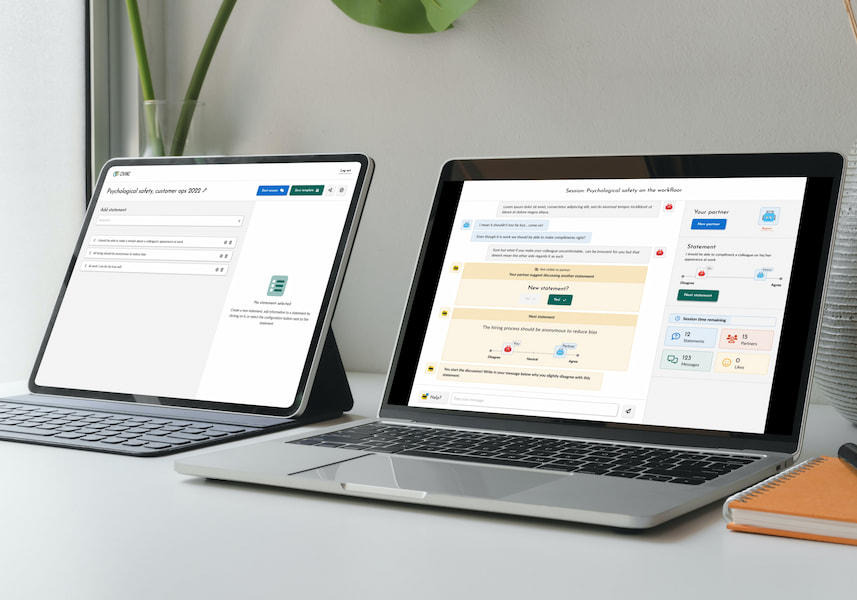 The value of safe exchange
Use Civinc as a scalable, measurable, and interactive intervention within or between business units on sensitive DEI or change issues. Organize sessions where employees can speak their mind on important topics, learn from colleagues, and increase engagement in the workplace.
See it for yourself and request a demo
We will gladly show you a demo and talk about the ways in which we can help you to burst bubbles. Contact us by filling out the form below, or shoot us a message directly at hello@civinc.co.
Some of our work and stories
Civinc spurs healthy debate on Diversity, Equity & Inclusion amongst +/- 100 professionals from ROC Noorderpoort