Create a culture of healthy debate
We help organizations leverage the value of diverse perspectives using evidence-based conversation technology
Cultivate the power of diversity
It is well-established that diverse teams perform better, have a stronger team identity and stay at an organization longer – but only if and when this diversity can be leveraged through an inclusive company practice, proces, and culture.

Civinc connects people with diverse perspectives on key organizational issues, in an environment designed for authentic exchanges. Our evidence-based method promotes trust and engagement amongst participants, while the data provides leadership with actionable insights on sentiment and attitude.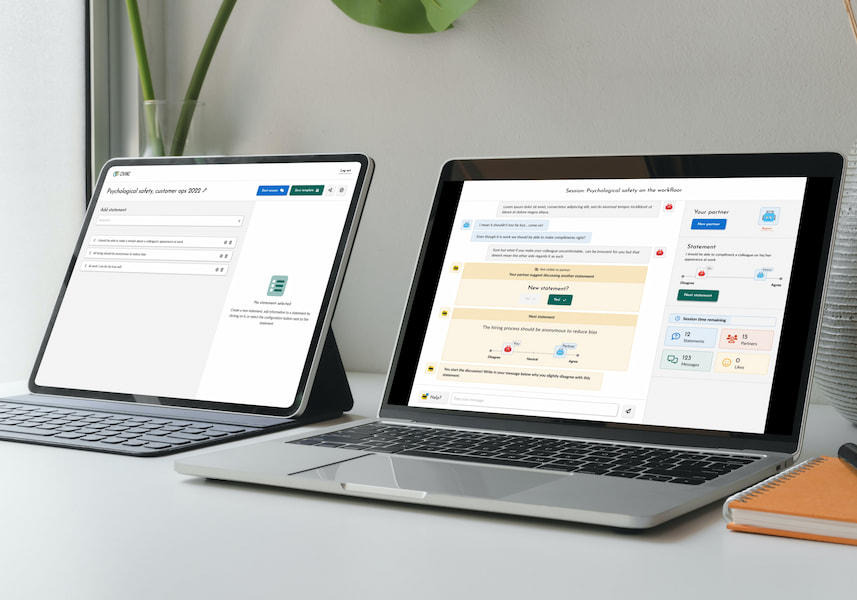 Use Civinc to spur conversations on:
Where to use the Civinc platform
The Civinc concept is versatile and can be used in different settings. Use Civinc:
As a stand-alone intervention


Use Civinc as stand-alone activity, e.g. as part of a theme day or on the margins of a symposium or conference, to stimulate people's thinking and draw more attention to a subject

As part of a workshop or training


Use Civinc as an addition to an existing workshop or training, offering an interactive dimension that invites participants to practice 'constructive clashes' and to deepen thinking

As part of a team meeting


Use Civinc as a low-treshold activity during your (ad hoc or regular) team meeting, to give employees the opportunity to discuss salient issues safely and freely
See it for yourself and request a demo
We will gladly show you a demo and talk about the ways in which we can help you to burst bubbles. Contact us by filling out the form below, or shoot us a message directly at hello@civinc.co.
Some of our work and stories
The Dutch branch of a Big 4 Consultancy asked Civinc to host a session that promised to actively involve every single one of the attendees in conversations about Diversity & Inclusion. "People open up and are themselves. Which is beautiful."
Civinc played an integral part in the onboarding of all mentors and mentees, by creating the conditions for inclusive conversations on often sensitive topics.
Civinc spurs healthy debate on Diversity, Equity & Inclusion amongst +/- 100 professionals from ROC Noorderpoort: "With the Civinc platform our colleagues with the most diverging opinion got to exchange thoughts on key issues"